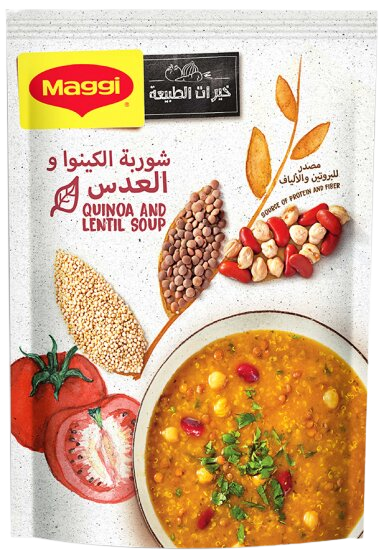 The history of Quinoa can be traced back 7000 years, having its origins in the Andeans during the Incan civilization. The grain was so important to them that they called it Chisaya Mama, the mother of all grains, and the Incan emperor even celebrated a day in its honor
Quinoa
It is the nutty flavored seed sourced from the quinoa plants. It's then harvested carefully and dehydrated the age-old way to retain all the goodness.
Lentil
For more nutrition, we add lentils and natural herbs.
Kidney beans
We add a little bit of Kidney beans that are rich in fiber, proteins and minerals for some extra taste.
Chickpeas
As a final touch, we add chickpeas and tomatoes to complement the taste and nutrition.
Taste and nutrition
Quinoa is rich in fiber, antioxidants, iron and lots of vitamins. By adding lentils, vegetables and natural herbs to the soup, we get the perfect recipe that's tasty and nutritious.

More Information
| | |
| --- | --- |
| | Average Composition* |
| Energy: | 321 kcal |
| Protein: | 13.3 g |
| Carbohydrates: | 55.4 g |
| Fats: | 5.2 g |
| Sodium: | 2.95 g |
| | | |
| --- | --- | --- |
| Milk | yes | - |
| Gluten | yes | - |
| Celery | yes | May contain |
| Egg | yes | May contain |
| Soy | yes | May contain |
Yes - according to the recipe with the addition
No - according to the recipe without the addition
n / a - no information