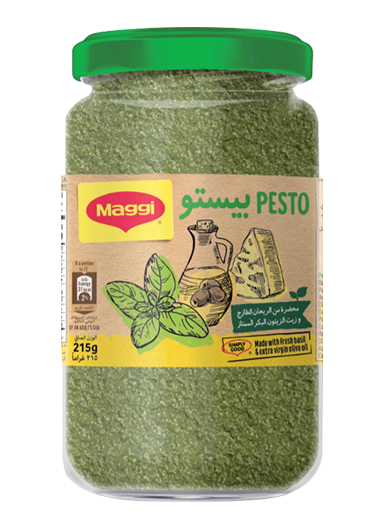 MAGGI's new Pesto sauce made with extra virgin olive and fresh basil.
100% free of added preservatives
100% free from artificial flavors or artificial colorants.
Vegetable Puree (Basil, Garlic), Water, Non-Hydrogenated Vegetable Oils (Sunflower, Extra Virgin Olive Oil), Sunflower Seeds, Parmesan Cheese Powder, Thickeners (Modified Cornstarch, Xanthan gum), Salt, Whey Powder, Acidity Regulator (Lactic Acid). Contains Milk. May Contain Celery, Mustard, Peanuts and Nuts.
More Information
| | |
| --- | --- |
| | Average Composition* |
| Calories: | 308 Kcal |
| Total Fat: | 30.8 g |
| Saturated Fat: | 3.8 g |
| Trans Fat: | 0.1 g |
| Cholesterol : | 2.3 mg |
| Sodium: | 0.73 g |
| Total Carbohydrate : | 4.6 g |
| Dietary Fiber : | 2.0 g |
| Total Sugar : | 0.6 g |
| Added Sugar : | 0.1 g |
| Protein : | 3.1 g |
| | | |
| --- | --- | --- |
| Milk | yes | - |
| Celery | yes | May contain |
| Mustard | yes | May contain |
| Peanuts | yes | May contain |
| Nuts | yes | May contain |
Yes - according to the recipe with the addition
No - according to the recipe without the addition
n / a - no information