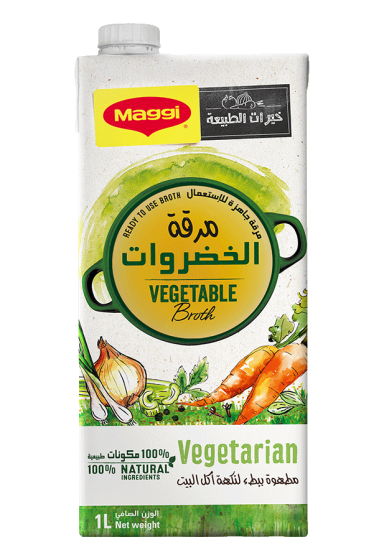 Ready to Use Vegetable Broth
A ready to use rich vegetable broth in a liquid format that matches what you would make at home. It only includes 100% natural ingredients that you love and that are slowly cooked to give you the rich broth you seek.
100% vegetarian
Rich in vegetables and herbs
No added preservatives
No artificial colourants & flavours
Water, Vegetables (Onion, Celery, Carrot, Leek, Garlic, Parsley), Sea Salt, Wheat Seasoning (Wheat Protein, Salt), Herbs & Spices (Coriander, Allspice, Black Pepper, Turmeric, Bay leaf), Extra Virgin Olive Oil (non-hydrogenated).
More Information
| | |
| --- | --- |
| | Average Composition* |
| Calories: | 2 kcal |
| Total Fat: | 0.1 g |
| Trans Fat: | 0 g |
| Cholesterol: | 0.1 mg |
| Sodium: | 0.29 g |
| Total Carbohyrdates: | 0.2 g |
| Dietary Fiber: | 0.0 g |
| Total Sugar: | 0.0 g |
| Added Sugar: | 0.0 g |
| Protein: | 0.2 g |