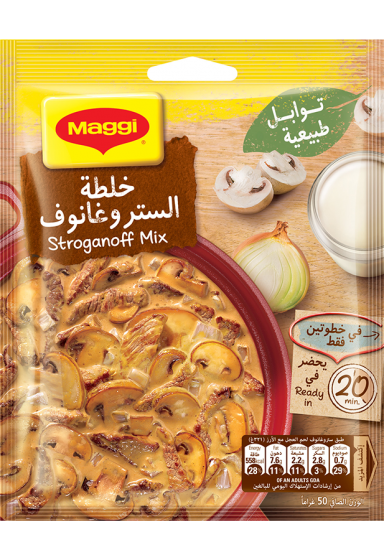 Prepare your traditional Beef Stroganoff dish with the new ready-made Stroganoff mix made from natural herbs & spices.
Preparation:
• Sauté 800g lean beef strips in 1 tbsp. sunflower oil over high heat until seared, add 1 medium sliced onions and cook for 10 minutes until onions are soft.
• Add Maggi® Stroganoff Mix, 500ml water and 1 pack (250g) of chopped white mushrooms and cook over medium heat for 5 minutes until sauce is thickened.
Tip:
For additional creaminess, add 3tbsp. of light cooking cream and cook for additional 2 minutes.
Substitute the beef strips with 900-g of chicken strips.

Ingredients: Potato Starch, Wheat Flour, Iodized Salt, Skimmed Cow's Milk Powder, Natural Dried Vegetables (Onion, Garlic, Parsley), Corn Seasoning (Cornstarch, Salt), Non hydrogenated Palm Oil, Natural Flavors (Mushrooms, Fried Onion), Cow's Milk cream, Natural Spices (Chili Pepper Powder, Black pepper), Sugar, Malt Extract, Milk Protein. Contains Milk, Gluten. May Contain Eggs, Celery & Soy.

More Information
| | |
| --- | --- |
| | Average Composition* |
| Calories: | 558 cal |
| Total Fat: | 7.6 g |
| Saturated Fat: | 2.2 g |
| Sodium: | 0.70 g |
| Carbohydrates: | 31.6 g |
| Dietary Fibre: | 1.4 g |
| Total Sugar: | 2.8 grams |
| Protein: | 40.5 grams |
| | | |
| --- | --- | --- |
| Milk | yes | - |
| Gluten | yes | - |
| Eggs | yes | May Contain |
| Celery | yes | May Contain |
| Soy | yes | May Contain |
Yes - according to the recipe with the addition
No - according to the recipe without the addition
n / a - no information