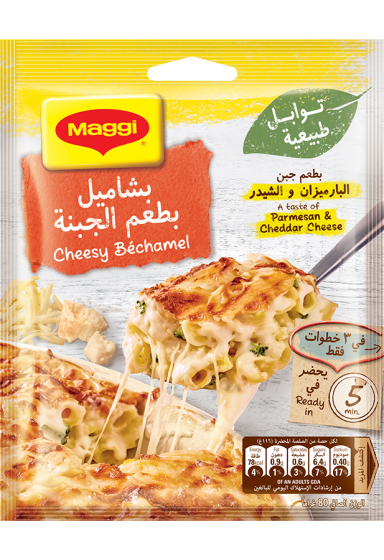 This traditional lasagna sauce with Parmesan and Cheddar taste can be used when preparing a variety of dishes including pasta, fish and meat. With no added preservatives, this sauce mix yields a rich, luscious flavour to your cooking. Try it today! Perfect for: chicken, meat, fish, and vegetables.
Preparation:
• Combine 750-ml skimmed milk with Maggi® Béchamel Cheese Mix in a deep saucepan.
• Stir over medium heat for about 5 minutes until sauce is thickened.
• Bake with Pasta or use as a pour over sauce.
Tip:
For additional cheesiness add mozzarella cheese on top of the dish and bake in an oven

Ingredients: Potato Starch, Wheat Flour, Cornstarch, Skimmed Cow's milk powder, Iodized Salt, Hydrogenated Palm Oil, Yeast Extract, Natural Cheese Flavors (Parmesan, Cheddar), Natural Spices (Black Pepper, Nutmeg powder). Contains Milk, Gluten. May Contain Eggs & Celery.


More Information
| | |
| --- | --- |
| | Average Composition* |
| Calories: | 78 cal |
| Total Fat: | 0.9 g |
| Saturated Fat: | 0.6 g |
| Sodium: | 0.40 g |
| Carbohydrates: | 12.8 g |
| Dietary Fibre: | 0.3 g |
| Total Sugar: | 6.4 g |
| Protein: | 4.6 g |
| | | |
| --- | --- | --- |
| Milk | yes | - |
| Gluten | yes | - |
| Eggs | yes | May Contain |
| Celery | yes | May Contain |
Yes - according to the recipe with the addition
No - according to the recipe without the addition
n / a - no information