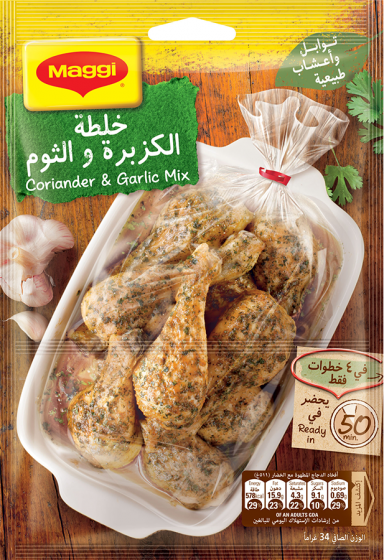 A flavourful blend of garlic and natural herbs for deliciously aromatic recipes with a distinctive homemade taste. Perfect for: chicken, meat, fish, and vegetables.
Preparation:
• Preheat the oven to 200 degrees Celsius, place 1 kg of chicken drumstick inside the cooking bag, add Maggi® mix, then knot the bag with the provided tie.
• Roll the bag gently to coat the pieces evenly before placing it in an oven tray.
• Place the tray in the oven, allowing room for the bag to expand during cooking without touching the walls or racks of the oven.
• Cook for 55 mins, then carefully cut the bag to transfer the chicken into a serving dish. While opening the bag, take care of hot steam. Enjoy!

Ingredients: Starch [Corn], Dried Garlic, Natural Coriander Flavor, Iodized Salt, Spices [Dried Coriander Leaf, Cumin, Black Pepper], Maltodextrin [Corn], Sugar, Tomato Powder, Dried Onion Powder, Natural Lemon Flavor, Natural Identical Umami Flavoring, Sunflower Oil, Parsley, Yeast Extract, Acidity Regulator [Citric Acid], Oregano, Chili Pepper, Salt. May contain traces of Celery, Wheat Gluten, Egg and Milk.
More Information
| | |
| --- | --- |
| | Average Composition* |
| Energy: | 258 kcal |
| Protein: | 45.5 g |
| Carbohydrates: | 3.7 g |
| Fats: | 5.3 g |
| Fiber: | 0.5 g |
| Sodium: | 0.63 g |
| | | |
| --- | --- | --- |
| Traces of Celery | yes | May contain |
| Wheat Gluten | yes | May contain |
| Egg | yes | May contain |
| Milk | yes | May contain |
Yes - according to the recipe with the addition
No - according to the recipe without the addition
n / a - no information