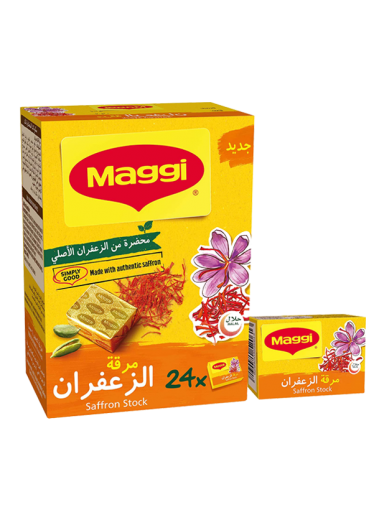 Saffron Bouillon.
Made with authentic saffron.
No Added Preservatives.
No Artificial Colorants & flavors.
Easy to prepare (6 servings):
• To make broth, add 2 tablets of MAGGI® Saffron Stock to 1 litre of boiling water.
Ingredients: Iodized Salt, Hydrogenated Palm Oil (Contains Soy), Sugar, Wheat flour, Yeast Extract, Non-Hydrogenated Palm Oil, Natural Herbs and Spices (Turmeric, Chilli, Cardamom, Black Pepper, Saffron), Vegetables (Onion Powder, Onion Paste), Natural Identical Saffron Flavor.
Contains Gluten and Soy. May contain Celery, Eggs and Milk.
Store in cool and dry place.
More Information
| | |
| --- | --- |
| | Average Composition* |
| Calories: | 284 kcal |
| Total Fat : | 23.6 g |
| Saturated Fat: | 15.7 g |
| Trans Fat: | 0.1 g |
| Cholestrol : | 0.3 mg |
| Sodium : | 17.6 g |
| Total Carbohydrate: | 14.7 g |
| Dietary Fibre : | 7.6 g |
| Total Sugar : | 12.1 g |
| Added Sugar : | 11.8 g |
| Protein : | 3.2 g |
| | | |
| --- | --- | --- |
| Gluten | yes | - |
| Soy | yes | - |
| Celery | yes | May contain |
| Eggs | yes | May contain |
| Milk | yes | May contain |
Yes - according to the recipe with the addition
No - according to the recipe without the addition
n / a - no information