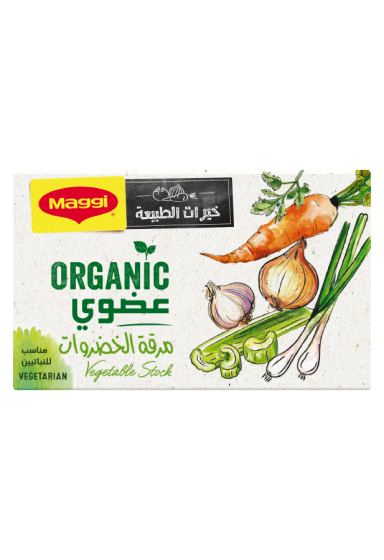 MAGGI Marketplace Organic Boullion is a range of hard tablet all-organic stock (chicken and vegetable) with winning variants and strong herbs and spices taste profile consumers are used to.
Sea Salt*, Dried Vegetables* 18% (Onion*, Carrot*, Parsnip*, Celery*), Potato Starch*, Sugar*, Non Hydrogenated Vegetable Oils* (Shea*, Sunflower*), Herbs & Spices* (Garlic*, Turmeric*, Black Pepper*, Bay Leaf*, Parsley*, Lovage*, Coriander*), Yeast Extract*.
Contains Celery.
*Product From Organic Farming.

More Information
| | |
| --- | --- |
| | Average Composition* |
| Energy: | 7 kcal |
| Fats: | 0.2 g |
| Proteins: | 0.1 g |
| Carbohydrates: | 1.1 g |
| Fiber: | 0.2 g |
Yes - according to the recipe with the addition
No - according to the recipe without the addition
n / a - no information